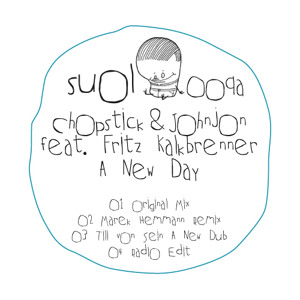 Yipeee! SUOL are putting out another fine release with Chopstick & Johnjon - A New Day.
It's another amazing deep journey all topped off with Fritz Kalkbrenner's smooth as silk warblings. Watch out for the pitch drop in the middle ;)
Remixes come in from fellow Suolian Till Von Sein and Marek Hemmann.
Chopstick & Johnjon feat. Fritz Kalkbrenner - A New Day (Original Mix) by suol
Chopstick & Johnjon feat. Fritz Kalkbrenner - A New Day (Till von Sein Remix) by suol
Chopstick & Johnjon feat. Fritz Kalkbrenner - A New Day (Marek Hemmann Remix) by suol
SlothBoogie